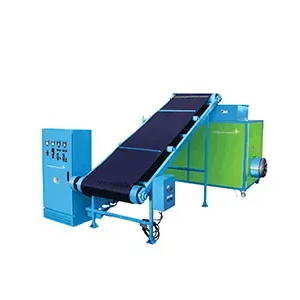 Paragon Recycling provides a complete line of foam shredders to help customers in the collection management of scrap foam material.

Our machines shred foam so it can be more efficiently densified into a block form which becomes a marketable recycling product.

Each machine can shred multiple types of foam, and we offer several makes and models in varying size and production capacity depending on your needs.

- Shreds polystyrene (EPS), polyethylene (EPE), polypropylene (EPP), PUR, & PIR
- Processes up to 2000 lbs./hour of loose EPE foam
- Shreds foam pieces up to 4 feet wide

More About Paragon Foam and Plastic Recycling
Paragon Foam and Plastic Recycling Systems produces time tested, high quality machines for the foam and plastic recycling industry with a wide array of options designed to meet your specific needs and preferences.

The team at Barnaby Tool and Equipment are professionals at helping you find exactly what your process line needs in order to get the most out of your equipment. Give us a call today to get started.

Need help with financing? Barnaby Tool and Equipment can assist with equipment financing options as well.

Earn money back on the foam that you recycle by selling it back after it has been densified or compacted. Barnaby Tool and Equipment will pair you with buyers that will buy your recycled foam in bulk.
With world-renowned technicians and decades of experience, we have the team you need and the support you deserve.
Confused about what equipment you need to make your production line complete? Talk with our pros now to get on the right track.
Questions? Concerns? Let's Connect.
A different kind of community:
Join to receive our newsletter delivered directly to your inbox.